Suorin Air Bar Max Disposable 2000 Puffs Wholesale
Suorin Air Bar Max Disposable 2000 Puffs Wholesale - Suorin
Suorin Air Bar Max Disposable 2000 Puffs Wholesale - Suorin
---
---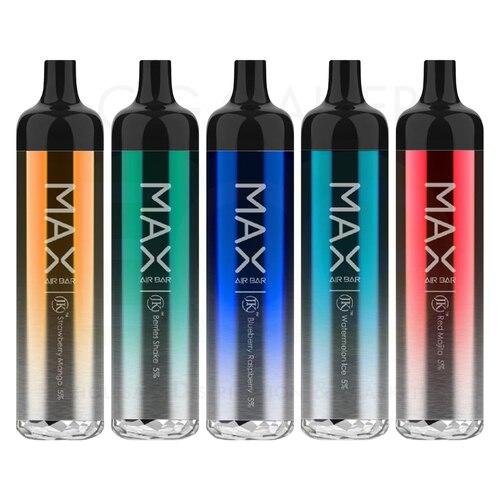 Send this to a friend
Suorin Air Bar Max Disposable 2000 Puffs Wholesale
Product details
The new Air Bar Max disposable vape device from Suorin. Company has once again shocked everyone by releasing the Air Bar Max disposable vape with 2000 puffs! What makes the Max unique is the new, modern design that can handle so many puffs. The mouthpiece is not rubber, but a thin round plastic one. The coolest part of this design is the bottom part that lights up when activated.
This product is made by the well-known brand Suorin, they are known for their airflow and how smooth they hit. Air Bar Max comes with a powerful 1250 mAh battery, one of the most powerful disposable batteries on the market. Despite the large battery, the product is still comfortable to use. Many people choose Air Bars because of their consistent flavor, the company has pre-filled the Max with 6ml of 5% salt nicotine to make every hit feel like the first puff of a disposable, fresh and delicious. To top it off, they also added flavors never before used in disposables, such as Sakura Grape and Berry Shake, to the flavor lineup.
Flavors:
Apple Shake
Banana Shake
Berries Shake
Blueberry Black Current
Blueberry Lemon Ice
Cool Mint
Cranberry GrapeGrape
Guava Shake
Melon Shake
Pudding
Red Bull Ice
Sakura Grape
Shake Shake
Watermelon Ice
Features:
Battery 1250mAh
E-juice6.5mL
2000 Puffs Per Device
5% Nicotine
*Minimum Purchase 10pcs
Product reviews
Be the first to review this product.