Smok TFV8 Big Baby Beast Tank Light Edition
Smok TFV8 Big Baby Beast Tank Light Edition - SMOK
Smok TFV8 Big Baby Beast Tank Light Edition - SMOK
---
---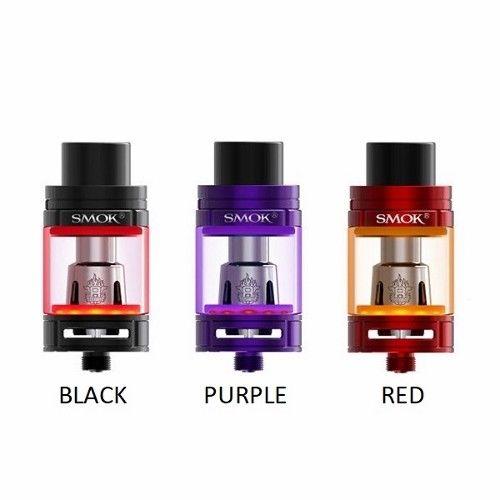 Send this to a friend
Smok TFV8 Big Baby Beast Tank Light Edition
Product details
Light up the way with the SMOK TFV8 Big Baby Beast Light Edition Sub-Ohm Tank; one of the most popular and critically acclaimed tanks to this day today, packing in the manageable size and affordable performance coil family from the Baby Beast Family with the capacity and range of the full sized TFV8 and the new LED lights located under the O-Ring seal. Maintaining the same 24.5mm diameter profile of the TFV8 and measuring just 3mm taller in height than the Baby Beast, the Big Baby Beast packs in a big 5 milliliter tank capacity accessed and filled via SMOK's signature Hinge and Lock Top Fill System. New to the Big Baby Beast is the LED ring under the O-Ring located on the bottom, whenever you fire your device of choice the LED lights activate and can be configured through the different O-ring colors that this package comes with. The Baby Beast Coil Family is based off of the high performance V8 line, retaining much of the same performance profile despite the diminutive size. Included with each kit is a trio of coil heads, featuring the V8 Baby X4 Coil Head, V8 Baby T6, and the V8 Baby RBA Head. Airflow is expanded, increasing each airslot to measure 15mm by 2mm which are located around the base of the chassis, with a full 8mm bore from chimney to drip tip. SMOK's Big Baby Beast enters the market as the prime combination of SMOK's two best Sub-Ohm Tank platforms, asserting itself as the premiere tank available today.

Product Features:
24.5mm Diameter
Hinge and Lock Top Fill System

Swivels Open and Shut
Fill Port

5.0ml Max Capacity
SMOK Baby Turbo Coil Family

V8 Baby X4 Coil Head

0.15 ohm
Quadruple Coil
30 to 70W
45 to 60W Recommended Range

V8 Baby T6 Coil Head

0.2 ohm
Sextuple Coils
40 to 130W
70 to 90W Recommended Range

V8 Baby RBA Head



Two Post Dual Terminal Design
Dual 6mm by 3mm Internal Airslots
Quad 4.5mm by 2.5mm Wicking Slots
Prebuilt Dual Clapton Coil
Includes Glass Tank Section and Spare Parts

LED Light Located on the Bottom of the Tank Seal
Dual Adjustable 15mm by 2mm Airslots
8.5mm Delrin Drip Tip
Stainless Steel and Glass Construction

Product Includes:
One SMOK TFV8 Big Baby Beast Sub-Ohm Tank
One V8 Baby X4 Coil Head
One V8 Baby T6 Quadruple Coil Head
One V8 Baby RBA Head
One Replacement Glass Tank Section
Spare Parts Pack
User Manual
Product reviews
Be the first to review this product.