iJoy Captain X3 Replacement Coils 3pcs
iJoy Captain X3 Replacement Coils 3pcs - iJoy
iJoy Captain X3 Replacement Coils 3pcs - iJoy
---
---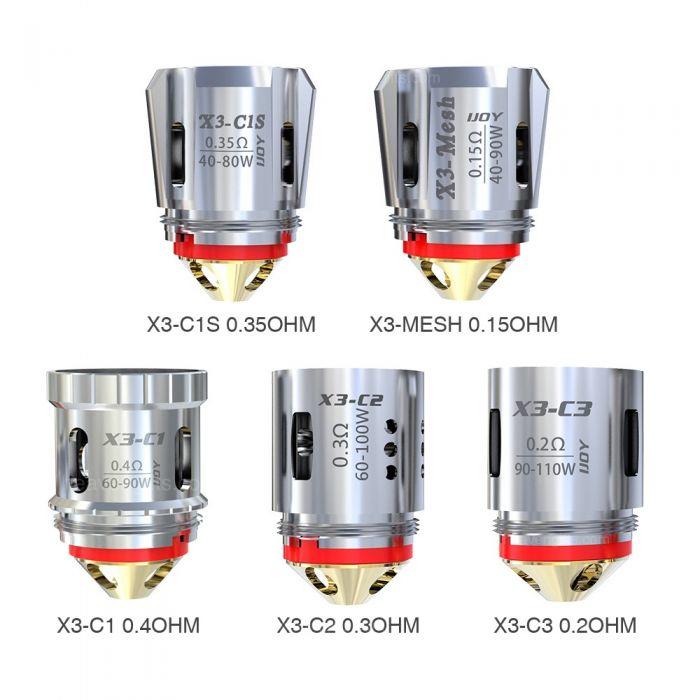 Send this to a friend
iJoy Captain X3 Replacement Coils 3pcs
Product details
The replaceable IJOY X3 coils designed for the Captain X3 / Avenger subohm tank have huge vapor and pleasant flavor. Dual coil X3-C1 0.4 Ohm, coil X3-C2 0.3 Ohm, coil X3-C3 with two coils 0.2 Ohm, coil X3-C1S 0.35 Ohm and X3-Mesh 0.15 Ohm for choice. 3 pcs. In each pack Get them as replacement parts for your Captain X3 / Captain X3S tank or Captain X3 kit to enjoy a superior vape.
Recommended wattage range:
Coil Type: X3-C1 Dual Coils 0.4ohm (60-90W)
X3-C3 Sextuple Coils 0.2ohm (90-110W)
X3-C2 0.3ohm (60-100W)
X3-C1S 0.35ohm (40-80W)
X3-Mesh 0.15ohm (40-90W)
Tank compatibility:
Captain X3 Subohm Tank
Avenger Subohm Tank
Includes:
Quantity: 3pcs/pack
Product reviews
Be the first to review this product.