Efest LUSH Q4 4 Bay Intelligent LED Battery Charger 26650 16340 18650 Battery
Efest LUSH Q4 4 Bay Intelligent LED Battery Charger 26650 16340 18650 Battery - EFEST
Efest LUSH Q4 4 Bay Intelligent LED Battery Charger 26650 16340 18650 Battery - EFEST
---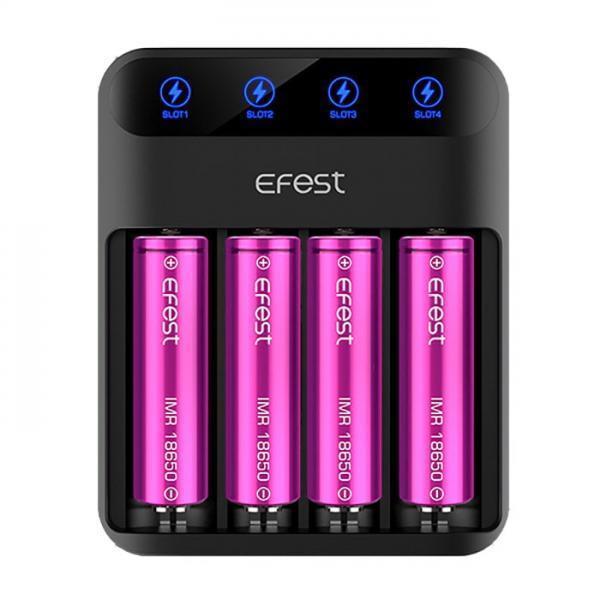 Send this to a friend
Efest LUSH Q4 4 Bay Intelligent LED Battery Charger 26650 16340 18650 Battery
Product details
The Efest LUSH Q4 Intelligent LED Battery Charger provides an impressive 4-bay charger that delivers consistent and accurate charging while maintaining ease of use and the ability to charge four cells at once. The Efest LUSH Q4 charges quickly and automatically selects between 0.5A, 1.0A, and 2.0A, depending on how the batteries are currently charging. The LED indicator is intuitive, notifying users when the batteries are in a charging state, and lights up green when the battery is fully charged with an automatic stop function. A complete, comprehensive set of protective equipment provides safety in abnormal conditions, with an autonomous hardware circuit, accurate voltage monitoring and many additional protections that ensure peace of mind. In addition, it can accommodate the most popular Vape batteries to date, such as the 18650, 20700 and 26650.
Features:
4-Bay Battery Charger
Independently Charging and Monitoring
Intuitive Battery Life LED Indicator Light
Simple No Button Design
Automatic 2.0A Charging for One Battery
Automatic 1.0A Charging for Two Batteries
Automatic 0.5A Charging for Three & Four Batteries
AC Input Power: AC 100-240V 50-60Hz
Auto Cut-Off Voltage: 4.20 (+/-0.05V)
Over Discharge Protection
Over Voltage Protection
Short Circuit Protection
Reverse Polarity Protection
Durable Construction - Fire Retardant & Fire Resistance
Piano Wire Springs
Low Resistance Steel Cathodes
Hard Chromium Plating
Supports Li-ion Battery Size: 10440, 14500, 14650, 16340, 16650, 17650, 17670, 18350, 18490, 18500, 18650, 20700, 22650, 26500, 26650
Instructional Manual:
To ensure your safety and maintain the battery's life and durability, we recommend you follow these rules:
Do not over-discharge or overcharge the battery. Doing so will shorten the battery's life and sometimes, it can make it pop or leak.
Please do not short circuit or it will release massive current.
Do not play with fire! Do not dispose any kind of battery in or near any fire.
Do not stack more than one battery as it may potentially blowout and cause serious damage to yourself and place.
Always check battery's condition to see if there are signs of wear and tear. If there is, please dispose the battery.
Do not dispose batteries into the trash as it is against the state's laws.
Includes:
1 Efest LUSH Q4 Charger
1 AC Adapter
Note: Batteries not included!
Product reviews
Be the first to review this product.