Hohm Tech Hohm Life V4 18650 3015mah Cell Battery 2pcs
Hohm Tech Hohm Life V4 18650 3015mah Cell Battery 2pcs - Hohm
Hohm Tech Hohm Life V4 18650 3015mah Cell Battery 2pcs - Hohm
---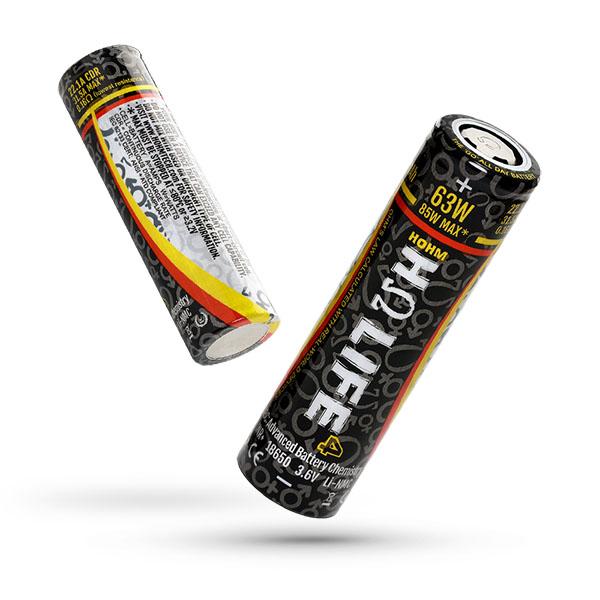 Send this to a friend
Hohm Tech Hohm Life V4 18650 3015mah Cell Battery 2pcs
Product details
The Hohm Tech Hohm Life V4 18650 3015 mAh battery is a GO battery that runs all day. Designed for those who want to power insanely energy-intensive devices without changing batteries every minute. They are rated by Indonesia Chemistry at 3015 mAh, with a CDR of 22.1 A and 80C | The cut-off limit of 3.2 V, which occurs first at 31.5 A. For EV and DC motors, the Hohm Life V4 cell handles repetitive loads of 37.1 A at 5-second turn-on and 30-second turn-off of the pulse / peak.
3015mah | 22.1A CDR | 31.4A @ 80C cut-off
Wattage output up to 5% to 63W: Amperage up to 6.8% to 22.1A CDR; capacity up 7.4% @ >15A loads
Designed to feed power-hungry devices without having to swap batteries every other minute
Chemistry enhancedby QSP quad stripping process, which is proven to deliver greater voltage-sag resistance
Exceeds all previous designs and chemistry results with greater amperage and capacity
A multitude of processes conducted to achieve documented specs
Cathode Tag made from UH Purity Aluminum: Ultra-High Purity UHP
Updated poly seal: enhances security of seal & proper operation
Anti-counterfeit 'Ohm embossed top to stock knock-off/clones
New Mn bonding process that achieves greater purity. Cycle life is increased to over 70% nominal average of original capacity
New QSP NiCo Meld over 10kHz: process increases charging rate to 4.43A from previous 4.25A
Specifications:
Battery capacity: 3015mah
Max charge rate: 4.43A
Max charge voltage: 4.2V
Continuous discharge rate: 22.1A
Max 80C | 3.2V cut-off; 31.5A
Pulse | Peak: 37.1A
Cycle life retention: 500 @ greater or equal to 70%, 1000 @ greater or equal to 60%
Chemistry type: QSP Li-NMC
Safety:
To expound on safety

Modified cathode tag consisting of higher purity aluminum is utilized to aid in lowering internal resistance
Updated poly seal with refined bitumen is installed in every cell to ensure pressure is controlled

NOTICE: Hohm Tech does not manufacture batteries. These are made for and licensed to Hohm Tech Int'l achieving their requirements set forth
CAN BE CHARGED AT 4.43A. This is not a misprint. 4.43A is possible, tested, proven, and approved within all strict safety protocols set by Indonesia Chemsity.
TESTING BEYOND TEMPERATURE. Hohm Tech cells utilizes both static and dynamic testing that includes but is not limited to: density loss, thermal distribution, volt drop limiters, cycle life retention, and temperature. These tests are imperative to achieve true cell performance, longevity, and overall quality.
2pcs per box
Product reviews
Be the first to review this product.