Hyppe Max Flow Duo Disposable 2500 Puffs Wholesale
Hyppe Max Flow Duo Disposable 2500 Puffs Wholesale - Hyppe Bar
Hyppe Max Flow Duo Disposable 2500 Puffs Wholesale - Hyppe Bar
---
---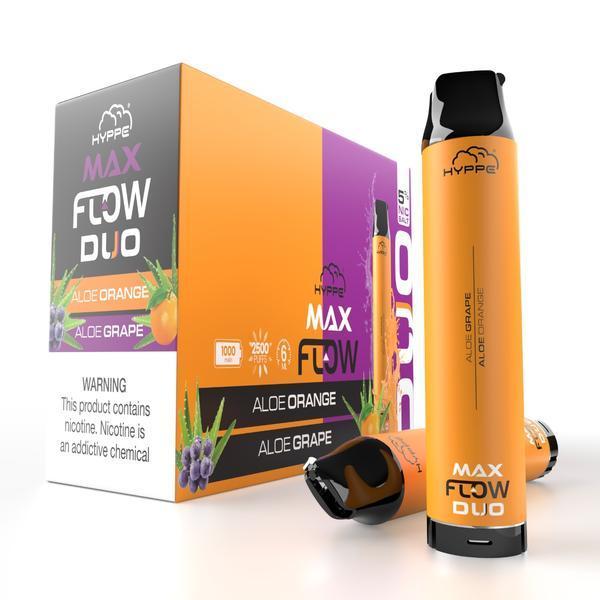 Send this to a friend
Hyppe Max Flow Duo Disposable 2500 Puffs Wholesale
Product details
Hyppe Max Flow Duo is a brand new premium quality vape device that will improve your vaping experience. Hyppe Max Flow Duo is one of the rare disposable devices that allows you to switch between flavors. The Hyppe Max Flow Duo includes a built-in 1000 mAh battery and a 6ml pre-filled e-juice with over duo flavors and 2500+ puffs, this disposable vape also includes an adjustable airflow system to keep you in control.
Flavors:
Aloe Grape/Aloe Lush Freeze
Aloe Orange/Aloe Grape
Chewy Watermelon/Blue Gummy
Hawaiian Freeze/Cotton Candy Freeze
Kiwi Strawberry/Strawberry Guava
Lush Freeze/Peach Freeze
Lychee Freeze/Lychee GuavaMenthol & Lychee Guava
Strawberry Banana Freeze/Banana Freeze
Strawberry Freeze/Blue Razz
Watermelon Peach Pear/Strawberry Apple Watermelon
Features:
2 Separate flavors per device selectable by a switch
Adjustable Air Flow
E-juice 6mL
2500 Puffs Per Device
5% Nicotine
1000mAh Battery
*Minimum Purchase 10pcs
Product reviews
Be the first to review this product.