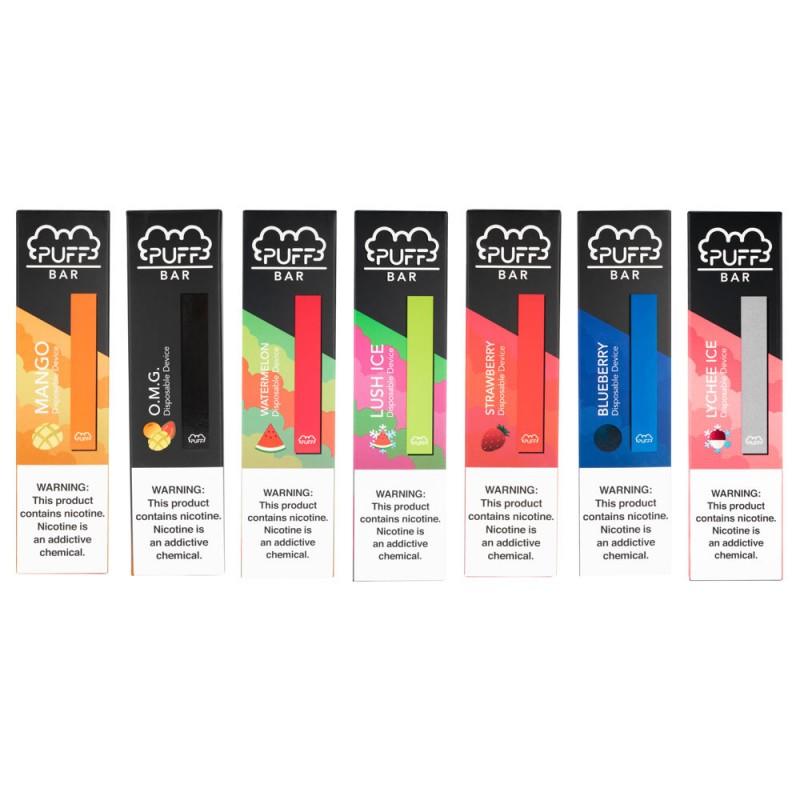 Send this to a friend
Puff Bar Disposable 5%
Product details
The Puff Bar is a disposable device that requires no maintenance, charging, or refilling. Once it's done, just throw it away and get a new one! Each Puff Bar is integrated with a pre-filled 1.3ml salt nic e-liquid and is pre-charged. Approximately 200+ puffs per Puff Bar which is equivalent to 1 pack of cigarettes.
Blueberry: Sweet and delicious blueberries swirling with flavor
Blue Razz: A sweet candy flavor of blue raspberry
Cafe Latte: A smooth coffee drink made with espresso and steamed milk
Cool Mint: Get the taste of cool and refreshing mint
Cucumber: Cool, refreshing cucumber flavor
Grape: sweet and juicy ripe grapes 
Lush Ice: An icy watermelon
Lychee Ice: an exotic lychee fruit finished off with ice


Mango: Sweet, juicy, ripe mango
O.M.G.: Orange, mango, guava
Peach Ice: Sweet peaches finished off with an icy blast
Pink Lemonade: A sweet and tart burst of pink lemonade
Pomegranate: sweet and tart pomegranate flavor
Strawberry: a sweet and ripe blend of strawberries
Tobacco: Get the taste of bold tobacco with every hiy
Watermelon: Get the taste of sweet and juicy watermelon flavor
Specifications:
Pre-filled 1.3ml of salt nic e-juice
Disposable after use
Integrated 280mah battery
50mg nicotine
200+ puffs per Puff Bar
Compact, light, and portable
Product reviews
Be the first to review this product.