Puff Bar Disposable 5% 10pack Per Box Wholesale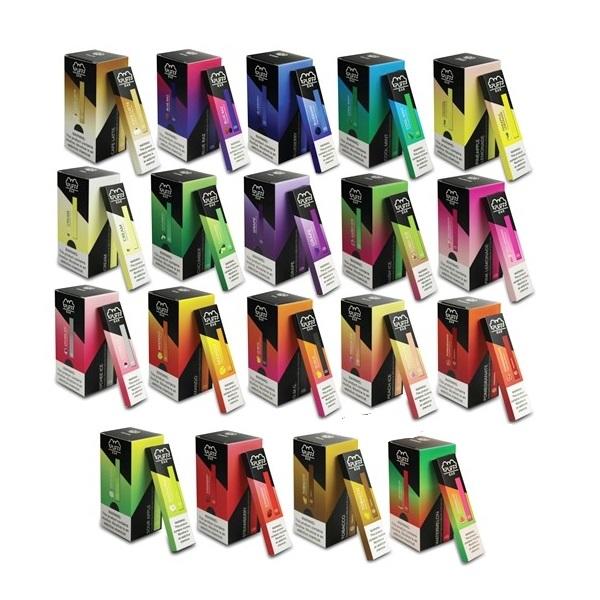 Sale
Warehouse: California
Tara J
All these "Ice" Flavors are REALLY AmaZING!
Description:
Puff Bar is a disposable pod device that does not require maintenance, recharging or refilling. Once the Puff Bar is fully used, just throw it away and use a new one!
Each Puff Bar is pre-filled with 1.3 ml salt nic e-juice and has a built-in battery of approximately 200+ puffs per one Puff Bar.
Blueberry: Sweet and delicious blueberries swirling with flavor
Blueberry Ice: Sweet and delicious blueberries finished with ice
Blue Razz: A sweet candy flavor of blue raspberry
Cafe Latte: A smooth coffee drink made with espresso and steamed milk
Clear: Unflavored. Made for use with the Puff Krush Pods
Cool Mint: Get the taste of cool and refreshing mint
Cucumber: Cool, refreshing cucumber flavor
Grape: Sweet and juicy ripe grapes 
Lush Ice: An icy watermelon
Lychee Ice: An exotic lychee fruit finished off with ice
Mango: Sweet, juicy, ripe mango
Menthol: A cool and refreshing menthol blast
O.M.G.: Orange, mango, guava
Peach Ice: Sweet peaches finished off with an icy blast
Pineapple Lemonade: A sweet and tart blend of pineapple and lemonade
Pink Lemonade: A sweet and tart burst of pink lemonade
Pomegranate: Sweet and tart pomegranate flavor
Sour Apple: Tart granny smith apples with a roundness of sweet flavor
Strawberry: a sweet and ripe blend of strawberries
Tobacco: Get the taste of bold tobacco with every hit
Watermelon: Get the taste of sweet and juicy watermelon flavor
Specifications:
Pre-filled 1.3ml of salt nic e-liquid
Disposable after use
Integrated 280mah battery
50mg nicotine
200+ puffs per Puff Bar
Compact, light, and portable
10pcs per box


Earn
35
points with this purchase
Add to WishList
Earn points
The item has been added to your Shopping Cart