SMOK Nfix Pod Kit 25w 700mAh 10th Anniversary
SMOK Nfix Pod Kit 25w 700mAh 10th Anniversary - SMOK
SMOK Nfix Pod Kit 25w 700mAh 10th Anniversary - SMOK
---
---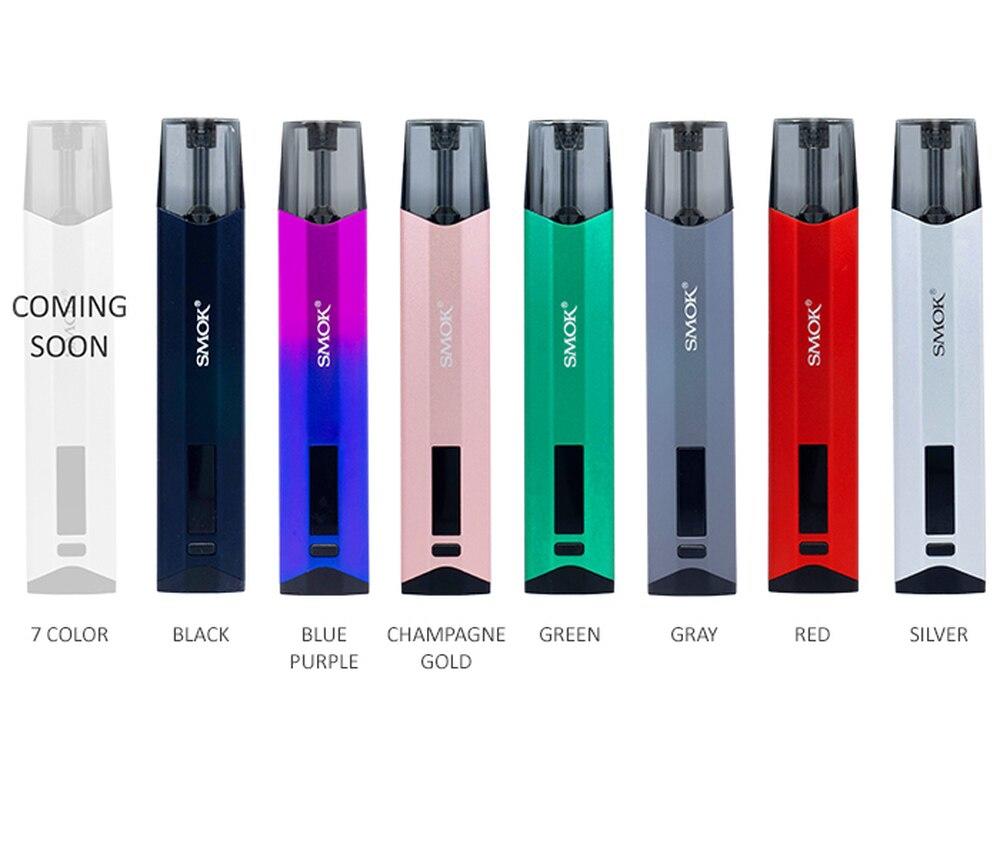 Send this to a friend
SMOK Nfix Pod Kit 25w 700mAh 10th Anniversary
Product details
SMOK Nfix Pod kit is a perfect portable all-in-one vape pod that is a good combination of simple design and superior technology. With slim, portable design and easy to carry. The sleek Nfix weighs only 32g and fits comfortably in the palm of your hand. Equipped with a built-in 700mAh battery, Nfix can support daily use for heavy users. Get rid of frequent charging and focus on daily vaping however you want. Nfix with Type-C interface for fast charging. Type-C charging provides reliable power delivery and faster data transfer speeds, making charging easier. It takes only 60 minutes to fully charge the battery, which is efficient and time-saving. The Nfix Kit supports a maximum power of 25W and comes standard with two dual 0.8Ohm MTL pods designed to provide the best flavor for MTL vaping style. In addition, Nfix allows access to all essential vaping data through a 0.69-inch OLED screen. It also has multiple protections to keep vaping safe and reliable.
As for the SMOK Nfix Pod, the 3ml capacity provides a delightful vaping experience. Open the rubber stopper on the side of the pod to pour the juice. Nfix translucent PCTG capsule helps to observe e-liquid more intuitively. Integrate 0.8ohm MTL coil inside the pod, use to restore the purest original flavor. The MTL coil can perfectly restore the taste and smell of the throat by adjusting the degree of taste recovery. In addition, the top of the SMOK Nfix has two symmetrically positioned air intakes that allow more air to flow through. The double-sided vertical air duct structure inside the capsule directs the air flow directly to the coil,  enhancing flavor and providing rich vapor. The Nfix module uses magnetic contact points for easy connection to the battery. 
Features:
Size: 110.5 (Height) *21.5 (Width) *13 (Thickness) mm
Weight: 32g
Battery Capacity: 700mAh
Resistance Range: 0.6Ohm-3.0Ohm
Power Range: 1W-25W
Pod Capacity: 3ml (Standard Edition)
Standby Current: <50uA
Input Voltage: 3.3V-4.2V
Output Voltage: 0.5V-4.0V
Charging Voltage: 5V
Charging Current: Max 0.68A
Overcharge Voltage: 4.3V
Overdischarge Voltage: 2.4V
Overcharge Current: 1.0A
Charging Port: Type-C Port
Screen: 0.69-inch OLED Screen
Includes:
Nfix Device (700mAh)
2 Nfix DC 0.8ohm MTL Pods (3ml)
Type-C Cable
User Manual
*NOTE: The price of $12.90 is printed on the box*
Product reviews
Be the first to review this product.