Uwell Crown 3 Sub-Ohm Tank 5ml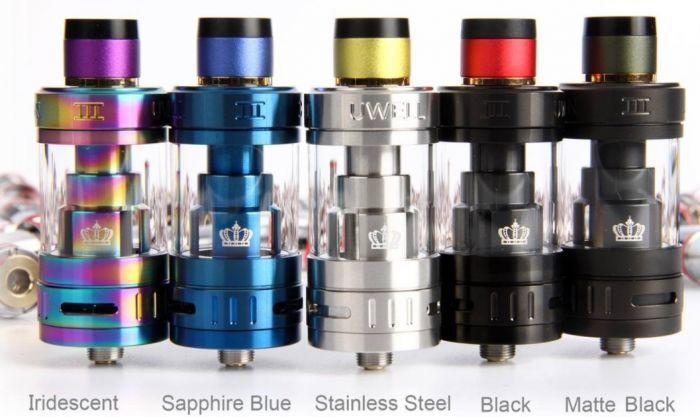 Sale
Warehouse: New Jersey
Description:
Uwell Crown 3 is the latest version of the famous Crown tank. Crown 3 has a 5 ml e-juice tank, top filling system and innovative sub-ohm coils system. Each box is equipped with a Crown 3 key to improve coil change and tank cleaning.
Uwell Crown 3 has a diameter of 24.5 mm. There are aesthetic improvements along with the release of new colors and colorful drip tips. Fill the tank through a patented top-threaded system to open the filling hole. Improved chimney design and construction reduces the amount of condensation of electronic juice and reduces the likelihood of leakage.
The new coils system has been optimized for the perfect balance of steam production and aroma. Adopting parallel coil structure along with convenient pull mechanism for quick and easy replacement process. Crown 3 SUS316 parallel coils with a power of 0.25 Ohms have a power range of 80-90 W and 0.5 Ohm coils designed for a power of 70-80 watts.
The airflow for the Uwell Crown 3 is located in three air grooves around the base and provides adequate cooling. The Uwell Crown 3, the latest generation of Crown atomizers, is the leading sub-tank in its class.
Specifications:
24.5mm Tank Diameter
5ml Juice Capacity
Stainless Steel Construction
Quartz Glass
Crown 3 Parallel Coil 
Plug-Pull Coil Replacement Mechanism
0.25ohm SUS316 Parallel Coil - rated for 80-90W
0.5  ohm SUS316 Parallel Coil - rated for 70-80W
Anti-Leak Threaded Top-Fill Method
Precision Tri Adjustable Airflow
Widebore Drip Tip - Vibrant Colors
510 Connection
Available in Stainless Steel, Black, Matte Black, Sapphire Blue, Iridescent
Includes:
Earn
11.99
points with this purchase
Add to WishList
Earn points
The item has been added to your Shopping Cart